To harvest rainwater you need to connect pipework to a downpipe from your roof gutter to your tank that water can flow through. Obviously, your tank will remain empty without pipes that lead rainwater into your tank.
These pipework systems come in two forms: 1) "Dry Systems" and 2) "Wet Systems". This article will explain what a Wet System is, and when it is suitable. You will need to decide, perhaps with your builder or tank installer, which suits your situation best.
What is a Wet System?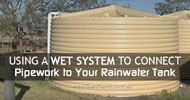 Wet Systems are pipework that runs underground to your water tank/s which rainwater flows through from your roof capture area/s. Rainwater flows down from
your roof, into gutters and air-tight downpipes. If there are multiple downpipes, they all meet underground and flow into one large pipe. This large pipe continues until reaching a "riser pipe" where water is then forced up into and pressured into your storage tank.
Since the water in a Wet System pipework needs to rise again, there needs to be a significant drop from the gutters to the tank. This creates the gravity necessary to pressure water up the riser pipe into your tank.
This means once rain stops falling, water will remain trapped in your underground piping before the riser pipe, until more water is had created the requires pressure. Therefore this piping system is referred to as a "wet system", since water remains in the pipework.
Wet Pipework System Benefits
Benefits of Wet Systems can be summarised as smart, tidier and provide a more aesthetically pleasing pipework.
A Wet System might be a more laborious installation compared to a Dry System since pipework needs to be buried underground, but if harvesting rainwater from multiple capture points, it will definitely be more discrete than above-ground pipework.
It can also be simpler system compared to above-ground pipework, which always requires support against a building. Awkward joints, corners and the different lengths of piping needed can be more easily be dealt with underground. Furthermore, no need to worry about navigating around obstacles, as you could just run pipes beneath them.
Water diverters in a Wet System can be placed in various positions:
near the downpipe, similar to a Dry System installation, the pipework leading into the Wet System can use a water diverter to remove the first flush of rainwater from the roof before directing it into the main pipework
near the inlet, on a post or wall in the pipework leading into the tank. In this configuration, the water diverted would include the water that was sitting in the underground pipes prior to the rain event, allowing any stagnant water to be flushed out.
underground at the bottom of the riser pipe, the lowest point in the pipework before water gets forced up into the tank. This type of water diverter works in similar fashion to a downpipe water diverter. That is, the first flush of rainwater enters a reservoir chamber below the riser pipe. As it fills up, a floating ball valve rises and seals of entry, allow the water to push up into the riser pipe and into your tank. On a site that allows the end cap of the diverter to be positioned above ground, an inground water diverter allows a Wet System to be converted into a Dry System by allowing the pipes to fully drain after the rain event.
When to Use a Wet System
You will generally want to use a Wet System for pipework when:
Your water tank/s are further away from your roof capture point
You have a difficult or unclear route from your gutter downpipe/s to your tank
You have multiple downpipes or capture areas that you are harvesting rainwater from.
If you are interested in a rainwater tank, Clark Tanks supply all necessary tank fittings, include main accessories such as valve, strainer and coupling, and optional accessories such as water diverter kit, leaf strainer cover, pumps and pump cover.
Our tanks are certified to Australian Standard 4766 for poly tanks, and we are a certified ISO 9001 manufacturer which assures you that quality standards are in place during tank production to ensure that every tank is made to the same high standards. Contact us today for a free quote on your water storage needs.