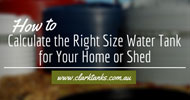 If you're building new infrastructure on your land, whether it's a shed, warehouse, barn or other facility, it's vital you determine the best water supply and storage system solution for your new building.
How much water will I need?
Your first step is to determine how much water your new building will need. For a guide to calculate your water usage, refer to our previous articles How to Calculate Your Home Water Usage,  How to Calculate Your Farm Water Needs or try our Water Usage Calculator.
While each circumstance is unique, another general rule is to plan for a minimum of four weeks supply. For example, if you need to use 5,000L per week, you should consider purchasing a 20,000L tank.
How much water can I harvest from my roof?
As a general rule of thumb, each square metre of roof space collects around 1 litre of water for every 1 millimetre of rainfall received. Using the calculation of (x) square metres of roof space available for connection to your tank multiplied by the amount of rainfall will help guide your decision.
As an example, a 200 square metre roof might have 50% of that area available for connection to a rainwater tank. Using the above calculation, the roof in this example would be capable of collecting 1000L based on 10mm of rain (100 square metres of connected roof space x 10mm of rainfall = 1000L).
Should I use one large tank or multiple smaller tanks to capture my rainwater?
Another consideration to take into account is whether you should use one large tank or multiple smaller tanks to capture and store rainwater.
For example, if your shed or facility has a pitched roof, you could put one large tank at one end of the building to capture all water, or you could place smaller, half-sized tanks at each end of the building.
While using only one large tank can save space, it may also leave your water supply vulnerable if something goes wrong. Having two smaller tanks means you will collect the same amount of water while always having one in operation if the other happens to fail.
Once again, each facility and property is unique, so it is recommended you speak to a water tank expert to determine your needs. For more information or to discuss your specific needs, contact our friendly tank experts today.
Download – How to Calculate the Right Size Water Tank for your Home or Shed