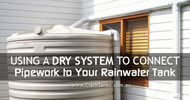 These pipework systems come in two forms: 1) "Dry System" and 
2) "Wet System"
. This article will explain what a 
Dry System
 is and when it is a suitable option for your property. You will need to decide, perhaps with your builder or tank installer, which suits your situation best.
What is a Dry System?
Dry Systems refer to when your pipework connects your roof water directly to the top of your water tank – from your gutters to your tank inlet. During a rain event, rainwater enters in your pipework, and gravity ensures water flows down through the downpipes (or multiple downpipes) and into your tank.
Dry System Benefits
Dry Systems are a quick and easy type of installation including accessories such as water diverters which assist with water quality, and simpler to maintain.
A Dry System works best where your water tank is positioned close to the downpipe it will be receiving water from. If your water tank is further away the pipework can look messy since the pipes would be visible running alongside your house or building, through the air, in perhaps zig-zag fashion to the top of your tank.
Dry System water diverters can be placed in two main positions:
near the downpipe before the pipework to the tank
near the tank inlet with the main pipework leading into the diverters before a single pipe feeds directly into the tank.
Water diverters are usually found in the form of a downpipe with slow-release valve at the bottom exists in the pipework somewhere between your gutter downpipe and tank. As rainwater flows through your pipework, the water diverter fills up with the initial rainwater runoff that often contains debris and small particles. The amount of water diverted depends on your roof size and how polluted your roof may be – generally a minimum of 20L per 100m2. When full, a floating ball valve seals the top, keeping the debris trapped in the diverter and allowing fresher rainwater to flow on into your tank.
Maintaining a Dry System is simpler than Wet Systems since being above ground the pipework is more easily accessible. Should a leak develop, it will be more quickly noticeable.
Finally, the reason why this system is referred to as "dry" is because unlike Wet Systems no water remains in the pipework after rain has stopped falling. This means less chance of contaminant build-up, which helps improve water quality and the life of your water pumps.
When to Use a Dry System
You will generally want to use a dry system for pipework when:
your water tank/s are near your roof capture area
you have an easy and clear route from your gutter downpipe/s to your tank
there aren't multiple downpipes or capture areas for harvesting rainwater.
If you are interested in a rainwater tank, Clark Tanks supply all necessary tank fittings, include main accessories such as valve, strainer and coupling, and optional accessories such as water diverter kit, leaf strainer cover, pumps and pump cover.
Our tanks are certified to Australian Standard 4766 for poly tanks, and we are a certified ISO 9001 manufacturer which assures you that quality standards are in place during tank production to ensure that every tank is made to the same high standards. Contact us today for a free quote on your water storage needs.