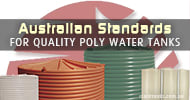 There are a number of Australian/New Zealand standards that you might come across when looking for a poly tank. This article will explore what Australian Standards are and some that anyone shopping for a rainwater or industrial poly tank should be aware of.
What are Australian Standards?
It is important to understand that Australian Standards are only recommendations for manufacturers and industry, not standards that must be legally met.
Australian Standards are put together by Standard Australia, a not-for-profit organisation. Certificates of compliance are issued by accredited organisations certified to test this and that standard. Anyone can claim to meet Australian Standards, but without formal certification you are just trusting the word of a business.
With any Australian business or manufacturer that claims to meet a particular standard, you should request their certificate, or certification number and agency who certified them. If a business cannot provide such, it doesn't mean they don't comply with the claimed standard. You should, however expect certification for most important standards.
Clark Tanks have been certified by Global Certification Pty Ltd for AS/NZS 4766:2006 Polyethylene Storage Tanks for Water & Chemicals (Cert #300/1) and AS/NZS ISO 9001:2008 Quality Management System (Cert #299/1). These are perhaps two of the important standards that a quality poly tank manufacturer should comply with.
AS/NZS 4766 & ISO 9001 Standards
AS/NZS 4766 Polyethylene storage tanks for water and chemicals– this standard specifies requirements for the design and manufacture of polyethylene storage tanks that are rotationally moulded in one-piece seamless construction, for non-buried, vertical installation, and capable of containing water, liquids for food and beverage manufacture and chemical solutions at atmospheric pressure. All quality polyethylene tanks should be certified to this standard.
AS/NZS ISO 9001 Quality management systems – this standard specifies requirements for quality management systems applicable to an organisation regardless of size, type, industry, product or service. It focuses on the quality management system's effectiveness in meeting customer requirements, and demonstrates that processes are in place to continually meet those requirements.
Australian Standards for Drinkable Water
AS 2070 Plastics materials for food contact use – this standard applies to the manufacture of the plastics materials (resins, granules and powders) and colorants for food contact use and describes procedures to be followed during the various stages of processing by manufacturers of plastics items for food contact. Adherence to this standard means your tank will be food-grade so the water stored within is safe from plastic toxins.
AS/NZS 4020 Testing of products for use in contact with drinking water– this standard specifies requirements for the suitability of products for use in contact with drinking water and defines test methods for evaluating their effect on the quality of the water. This generally applies to items such as pipes and fittings that will come into contact with your drinking water.
Clark Tanks Application of Australian Standards
Clark Tanks' poly tanks all comply with the above Australian standards being:
constructed of plastic materials that are of a food-grade standard. (meets AS 2070)
safe for storing drinking water once rotomoulded into shape. (meets AS/NZS 4020)
designed and manufactured to maintain structural integrity while holding liquids or chemicals under normal atmospheric conditions. (certified to AS4766:2006)
We are also AS/NZS ISO 9001 certified, meaning you can be assured of a quality product being produced over and over again through reliable manufacturing process. This is especially important to our partners who need to know a quality tank will be produced every time.