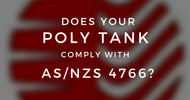 Poly tank manufacturers often state that their poly tank complies with Australian Standard AS/NZS 4766 Polyethylene storage tanks for water and chemicals.
To be assured of the structural integrity of your poly tank, it is very important that you confirm your tank is made to meet or exceed this standard.
The goal of this article is to provide you with information so that you understand this standard and how to confirm your tank will comply.
What is AS/NZS 4766?
The AS/NZS 4766 standard specifies requirements for the design and manufacture of polyethylene storage tanks that are rotationally moulded in one-piece seamless construction, for non-buried, vertical installation, and capable of containing water, liquids for food and beverage manufacture and chemical solutions at atmospheric pressure.
Do All Poly Tanks Comply with AS/NZS 4766?
Australian standards for manufacturing poly tanks are NOT legally enforced laws.
It is commonly thought that if there is an Australian standard, that it must have been legislated by the Australian government. Rather, standards like AS/NZS 4766 are recommendations developed by an organisation called Standards Australia for manufacturers who wish to build a higher quality product. Compliance to it is voluntary unless the product is regulated by Government.
Furthermore, if a company claims their poly tanks are certified to the AS/NZS 4766, this does not guarantee that yours will be. It is actually left up to a manufacturer to ensure quality processes are followed so that all requirements are met.
Six Ways to Inspect a Poly Tank for Compliance
The AS/NZS 4766 standard requires that manufacturer pass a strict set of tests. Some specified requirements that you can physically look for include:
Your poly tanks must be constructed as one piece (there should be no side seams)
Radius of rim around tank's base must be a minimum of 25mm for tanks up to a 1.8m diameter
Tanks over a 1.8m diameter must have a minimum base radius of 38mm
An installation guide must be supplied with your tank
A tank serial number to be marked on your tank
No section of the tank should be thinner than 4.5mm.
Receive Standards Assurance with Certification
As a lay person, there is only so much you can check. Often, you will choose a tank colour, particular size, fitting locations and then your tank will be manufactured as specified. How can you confirm your poly tank really complies before you order it and have it made?
Standards Australia have registered certifying agencies who will come out to a manufacturer and perform rigorous tests for the standard. For a poly tank manufacturer to receive certification for AS/NZS 4766, poly tanks are put through a rigid set of tests to ensure that they comply. If they pass, then a certificate is issued. So ask your tank supplier for the certificate or certification number associated with the claimed standard.
Note that a tank manufacturer might be certified for AS/NZS 4766 at the time the certifying authority performed their tests. You want to know however, that when your tank is made, that quality processes will be maintained to ensure your actual tank complies.
This is where the importance of the International standard, ISO 9001:2008 Quality management systems, comes into play. It provides you with assurance that the manufacturer has quality processes in place that will reliably produce the same quality product each and every time.
Ensure your poly tank is independently certified for both AS/NZS 4766:2006 Polyethylene storage tanks for water and chemicals and ISO 9001:2008 Quality management systems.
Clark Tanks are certified to both, and certification costs more, but given our experience and streamlined manufacturing processes we still provide very competitive prices. If you have found this article helpful, why not contact us today to discuss your needs.