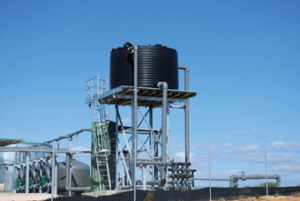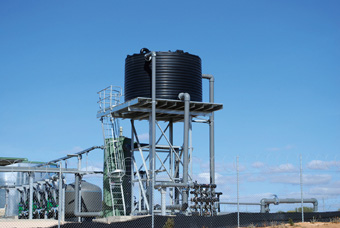 Clark Tanks can supply 1,000L up to 50,050L industrial tanks which are fully customisable, and custom fitted with a variety of high-quality fittings.
All industrial tanks are manufactured from Rotathene Supa UV Australian-sourced raw materials for storage of various liquids including a wide range of chemicals.
With specialist consultants whose collective experience spans decades, Clark Tanks offers a depth of expertise and strength in customer service that sets the benchmark in the industrial tank sector nationally.
Our industrial specialists are available via 1800 252 758 to discuss your needs and can provide a free quote if requested.
Industrial Tank Sizes
| | | | |
| --- | --- | --- | --- |
| Capacity | Height | Inlet Height | Diameter |
| 1,000L (225G) | 1680mm | 1545mm | 960mm |
| 1,600L (375G) | 2100mm | 1922mm | 1100mm |
| 2,000L (440G) | 2000mm | 1872mm | 1200mm |
| 2,614L (575G) | 1720mm | 1602mm | 1430mm |
| 3,000L (660G) | 2055mm | 1970mm | 1450mm |
| 4,546L Squat (1000G) | 1540mm | 1381mm | 2120mm |
| 5,000L Squat (1100G) | 1750mm | 1614mm | 2120mm |
| 5,000L (1100G) | 2205mm | 2079mm | 1840mm |
| 9,092L (2000G) | 2455mm | 2207mm | 2300mm |
| 9,456L Squat (2100) | 1675mm | 1280mm | 3090mm |
| 10,000L (2200G) | 2150mm | 1911mm | 2600mm |
| 13,600L (3000G) | 2675mm | 2265mm | 2800mm |
| 15,900L (3500G) | 3330mm | 3111mm | 2600mm |
| 22,730L (5000G) | 2800mm | 2465mm | 3530mm |
| 23,057L DNR (5000G) | 2900mm | 2482mm | 3500mm |
| 23,380L (5150G) | 2800mm | 2470mm | 3570mm |
| 23,639L Squat (5200G) | 2214mm | 1815mm | 4150mm |
| 31,822L (7000G) | 2970mm | 2251mm | 4150mm |
| 36,363L Squat (8000G) | 2800mm | 2404mm | 4570mm |
| 46,800L (10,000G) | 3400mm | 3031mm | 4570mm |
| 50,050L (11,000G) | 3460mm | 3460mm | 4400mm |